I am a proud fan of Manchester United Football Club. I have been for as long as I can remember. When I 1st began to understand football & watched it attentively, it was in Old Trafford that my attention settled & it is there it has remained.
I didn't only begin watching football when I discovered United though, I grew up on the rivalry between the best team in South Africa (Kaiser Chiefs) & the rubbish team from Orlando 😉 The  Soweto Derby between Kaiser Chiefs & Orlando Pirates. It was in this fierce contest between the 2 greatest clubs in African Football history that I developed my appreciation for The Beautiful Game.
I think it was the passion that attracted me. The drive to be the best. The bravado. The skill. It was the Manchester United way that attracted me. The passion with which we represented our club & our players vied for glory. The fast paced, skillful, efficient & artistic way that we played.
The day in 1998 that I saw Alex Fergusons United vs Arsene Wengers Arsenal & began willing the boys from Manchester to win was the day I became a Manchester United Fan.
There are some great names attached to Manchester United Football Club. In fact, Man United has been the place where many have made their names. We appreciate great players. We value & nurture great potential. But above all, we honour our legends. For it is because of them that we have achieved glory. Here are a few of the many names:
George Best who is considered to be one of the greatest dribblers of all time.
Eric Cantona who played a key role in the revival of Manchester United as a footballing force in the 1990s and was voted as Manchester United's greatest ever player by Inside United magazine.
Paul Scholes who is the most decorated English footballer of all time, and one of the most successful footballers in history.
David Beckham who is the most famous sportsman in the world & the first English player to win league titles in four countries, namely: England, Spain, the United States and France.
Wayne Rooney who is the Captain of both Manchester United & England, is viewed as the best player in English Football in recent years, holds numerous honours & he holds the record for most goals for one club in the Premier League, with 177 for Manchester United.
Cristiano Ronaldo who is Captain of Portugal. A 3 time Ballon d'Or winner. Ranked as the best player in the world and rated by some in football as the greatest of all time. He has been named The Greatest Portuguese player of all time by the Portuguese Football Federation. The first player to win four European Golden Shoe awards. He became the first footballer to score against every team in a single season in La Liga. He holds the record for most goals scored in a single UEFA Champions League season. He is the fastest player to score 200 goals in La Liga. He is the only player in the history of football to score 50 or more goals in a season on five consecutive occasions. He is Portugal's all-time top goalscorer & he is the all-time top goalscorer in the UEFA Champions League.
Ryan Giggs who is currently the assistant manager at Manchester United and co-owner of Salford City. He holds the club record for competitive appearances. Giggs is the most decorated player in football history. He was the only player to play in each of the first 22 seasons of the Premier League, as well as the only player to score in each of the first 21 seasons. Giggs holds the record for the most assists in Premier League history.
Our rivalries with other teams have created some of the best football matches in football history. Our duels with Arsenal, Liverpool, Chelsea, City & Leeds have become legend. We are part of the reason that the EPL is the most popular league in the world & it is these rivalries that have driven our fight for glory.
I can attribute many a Monday morning smirk to the successful exploits of my football club. In fact, in a world where we live vicariously through the athletic exploits of the sports men and women that we idolize, I can say that being a fan of Manchester United has given me pride.
As an avid football fan I watch matches from all over the world & I appreciate talent, skill & hard work. But I can say that the reason I value these traits is because they are the traits that where valued by the football philosophy that I & many around the world had become students of. The reason I & so many others expected so much from the football we watched was because we had, had the privilege to be managed by the best football manager of all time. Sir Alex Ferguson.
Sir Alex was appointed manager of United in November 1986 & is the longest serving manager of Manchester United, having retired from management at the end of the 2012–13 season. During his 26 years at the helm we won 38 trophies, including:
13 Premier League titles
5 FA Cups
2 UEFA Champions League titles
1 Fifa Club World Cup
Under the guidance of Sir Alex Ferguson, United became the most successful English team in history. We became the talk of the town. We became feared & admired & love by many. Indeed we became seen by many as the best club in the world. Under the leadership of Sir Alex, trophies became an expectation along with goals & pinpoint passing.
The reign of Alex Ferguson became legendary. We would beat the unbeatable teams. We would win the unwinnable matches. We defied logic & redesigned fate. We became one of the greatest football teams in the history of our sport. Under the guidance of Alex Ferguson we became immortal… we even began to feel invincible.
And then Sir Alex retired, winning the League in his final season & suddenly the juggernaut that was the Red Army was on shaky legs as we bid our general adieu.
As his successor, Sir Alex chose David Moyes. David had managed Everton in the EPL for a number of years & had managed to keep them competitive with clubs that had vast reserves & the best players in the world at their disposal. He was a good coach & he was dubbed "The Chosen 1" as he had been hand picked by Sir Alex. But his spell at United was ill fated. Coming in on the heels of The Greatest Manager Of All Time, he found his team (the same that had won the league the year before) imploding & United fell to 7th place.
With a fan base that expected victory, investors that expected returns & players that seemed to be sinking into a quagmire of depression following the exit of their mentor, the task was deemed beyond the skills of Mr Moyes.
Without being given a chance to turn things around, David became the 1st Manchester United manager in decades to be fired.
But his exit opened the door for the greatest player in the history of both club & country, to step up to the plate &  continue what is perhaps the greatest sports story being written to date.
Enter Ryan Giggs!
Giggs was appointed as a player–coach on 4 July 2013 under David Moyes. When Moyes was fired, Giggs took the helm as interim player-manager.
Under Giggs leadership we won 2, drew 1 & lost 1 of the last 4 matches of the 2013–14 season. But the executive leadership of the club felt the need to bring in a more experienced, seasoned & decorated coach to lead our floundering ship.
Enter Louis Van Gaal…
A former championship winning manager in his own right, LVG came to United with a reputation. He was formerly manager of Ajax, Barcelona, Bayern Munich, and the Netherlands national team. He was one of the most decorated managers in world football. He had blooded many a star & had his own football philosophy.
He signed Ander Herrera, Luke Shaw, Marcos Rojo, Ángel Di María, Daley Blind & Radamel Falcao.
But we lost 4–0 to League One side Milton Keynes Dons.
Before we knew it, we found ourselves at 9th place with 13 points and two victories, recording our worst start to the season since the 1986–87 season.
We were knocked out at the quarter-final stage of the 2014–15 FA Cup by Arsenal!
But we recorded a 4th place finish, three places and six points higher than we had in The Moyes Era. So maybe there was a way he could turn it around…
Next he signed Memphis Depay, Matteo Darmian, Sergio Romero, Morgan Schneiderlin, Anthony Martial & Bastian Schweinsteiger!
We began to feel as if the tide was turning. We began to feel as if there was hope for a flourish on the horizon… but alas, we were eliminated from the League Cup by Middlesbrough & were unceremoniously ejected from the Champions League at the group stage by VfL Wolfsburg.
Slowly our hearts have been squeezed & our pride has been forced down our throats. Our impossible dream has become a waking nightmare…
Thus we presently find ourselves in the Europa League.
Thus we find ourselves being told by LVG, that we must be happy that we are in the Europa League.
Apparently, our coach extraordinaire believes we are living in the past by being upset about how far we have fallen.
Louis Van Gaal believes he can turn it all around & that it is impossible for a team to dominate football indefinitely & thinks we should all be happy with our fate.
But he forgets that it is not his philosophy that we follow, it is the philosophy of Manchester United.
He forgets that our trademark 1 2 passing style is what won us our trophies.
He forgets that our passion was inspired by our players, who were inspired by their manager.
He forgets that we expect to win & hate to lose & that we where the team that could always find a way to win.
Indeed, LVG has forgotten that he is the manager of Manchester United FC!
So it is no surprise, that possibly the greatest appointment in the history of our club is on the horizon. Though Sir Alex is the greatest, he made himself so by leading us to become the most successful EPL team of all time.
Never have we had a rockstar take the throne before Ryan Giggs sat on the hot seat for his limited run.
The bumbling of Van Gaal & the loss of inspiration by the locker room has caused us all to look to perhaps the only man that could realistically resurrect our struggling club…
Enter Jose Mourinho!
The self styled & proven "Special One" is currently regarded by many as the best football manager alive (next to Sir Alex). He has amassed a vault of honours that span across the planet at a relatively young age & is one of the best tacticians in the game. In fact, one could say that the only thing Jose has yet to achieve, is to surpass Alex Ferguson. And the only place that legacy can be touched is at old Trafford.
And as if the stars where aligning & some kind of destiny was being fulfilled… Jose Mourinho was released from Chelsea FC & had indicated, applied & even campaigned to take the reigns at Manchester United.
Indeed it has become a desperate situation here at United. We are losing to teams we should be beating. Failing at tournaments we should be succeeding. Our fans are being subjected to lackluster & mediocre performances by players we are losing faith in. And to top it all off (besides the fact that our sworn rivals, Liverpool, are beating us every other day), our noisy neighbors Manchester City have become a dominant force & are on the verge of taking our place as the number 1 team in Manchester.
They have made a move that is a proverbial game changer.
They have hired the man who is vying with Jose Mourinho for the title of best coach in the world…
Enter Pep Guardiola!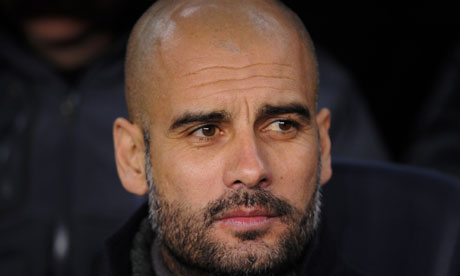 I am a proud fan of Manchester United Football Club. I have been for as long as I can remember. When I 1st began to understand football & watched it attentively, it was in Old Trafford that my attention settled & it is there it has remained.
I stayed with the club when David Beckham left.
I stayed when Cristiano Ronaldo left.
I stayed after Sir Alex Ferguson retired.
And I support my team through our struggle to regain our glory.
I will support Man United until I am no longer able to watch football or think about it or be interested in it anymore.
Aptly put by the club…
So it is with love that I write this article & it is with justifiable rage & disappointment that I ask that we agree that the identifiable problem with our fallen heroes is that they do not believe in the philosophy they are being forced to adopt.
We have taken hawks & tried to make them into fighting chickens.
We have put lions in a zoo & told them to dance.
Under the stewardship of Louis Van Gaal, we have turned Manchester United into a shade of its former self, akin to Liverpool before Brendan Rodgers & Jurgen Klopp.
In my opinion, it just isnt working Mr Van Gaal. You only have to look at the faces of our boys to see the frustration your playing style is having on them.
There is only one thing left to do here at Old Trafford.
There is only 1 man that can do it.
In the words of the above fan, "LVG Out! Mourinho In!"
You see, we don't know what the future holds & we don't know if the choices we make will be the right ones.
But what we do know is that opportunity presents itself only once & it is our duty to grab it.
Ryan Giggs will become our manager one day & he will continue his legend. But I dont think it will be a bad idea to let him learn from the best manager in the game on his way to becoming the best in the world himself.
He has learned from Ferguson.
He has learned from Moyes.
He has learned from Van Gaal.
And now Guardiola has poised himself as our opponent.
No one knows how to beat Pep better than Jose.
It is perhaps the best manegerial rivalry since Ferguson Vs Wenger.
That alone has the smell of destiny to it.
We can not let our club fall into the abyss when we have come so far & we can not undo the work done by so many to put Manchester United at the pinnacle of world football & into the hearts of so many. What Ed Woodward & Louis Van Gaal & The Glazer Family need to remember is that… we are part of the greatest football story ever told, being written. And it is our duty to ensure that the legacy of Sir Alex Ferguson, the legends of United & history of our club, be defended & continued.
"Glory Glory Man United!"